Make Your Own Wall Art
On It seems like every where I go I see all of these beautiful watercolor wall art. You know what I'm talking about! When your walking through Target, Michael's, Home Good's, or Books A Million. The only problem is that often times these beautiful pieces of art can cost you between $20 and $50 dollars depending on the size. Because I've been trying to be more crafty this year I said to myself, "I have to be able to make something like this at home".
So I got up the courage, found some Michael's coupons, and bought a pack of 7 small canvas's for $20 (my husbands idea), a package of Recollection Watercolor Crayons ($7.99 on sale), and a package of Recollection Paint Markers $9.99 (without coupon).
When I first got the crayons out I read the directions and tried it out on some scrap paper. Following the directions and drawing with the crayons and them using a paint brush going over it lightly with some water. I realized quickly that it didn't work quite as I expected. So next time I wetted the paint brush and swiped it over the crayon and used that to paint.
Here is how I came about making my first piece of watercolor wall art.
1. Made the background- I first picked the 4 colors that I wanted to use and made a simple watercolor back ground by making stripes across the canvas. Not trying to be too careful because when it's a little bit messy it looks more natural.
2. Pick a quote- This was probably the hardest thing to decide but I remembered that my favorite wall art I had seen so far used the quote "Home is wherever I'm with you" (also a song I like). I looked around at other paintings with the quote to decide how many words I wanted on each line.
3.Filler- The next step was to play around with what kind of decorative extra's I wanted to use. I googled the quote on Pinterest and looked at what other people had done and chose the arrow and vine decorations.
4. Practice- To make sure I knew how I wanted it all to come together I played around a few times on scrap paper with a black paint marker. Then once I figured out exactly what I wanted I could do it for real.
5. The Final Creation- Once I had tried it all out I thin very carefully put it all together on the canvas. I started with the border and arrow first. Then fir the writing in the spaces that was left. I did this while my toddler was sleeping so that I wouldn't get any surprises and make a mistake.
In the end I think it turned out pretty well and I am excited to put it up on the wall. My plan is to make a few different things and turn it into a gallery wall in my living room. I will post the wall art as it is made to share the inspiration.
This already gives me warm and fuzzies because the quote makes me thing of my family and how I'm always home wherever I am as long as they are by my side.  It reminds me that it's not the material things that makes a home. It's the laughter, memories, stories, and playtime that really make our house a home.  Not the devices, technology, and toys.
Hope you like it!
Is their a quote that you would like to use? Do you think you would like to make one of these yourself? Are you interested in seeing what I come up with next?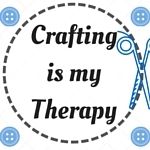 ---
---